Advertising Standards Authority (ASA)
Many websites of homeopaths are changing. Some as a direct result of being contacted by the Advertising Standards Authority (ASA) and some, no doubt, because, now they are aware of the ASA's rules, want to be responsible and abide by them.
I've been watching several websites change over recent months: some delete a few words here and there; some have had to make substantial changes; and some have yet to make the necessary changes.
One of the websites I've been watching is the one belonging to the Society of Homeopaths.
Their home page had this:
Homeopathy is an evidence-based medicine which offers holistic, individual and integrated treatment with highly diluted substances with the aim of triggering the body's natural system of healing.
A few days ago, they changed it to say:
Homeopathy is a form of holistic medicine in which treatment is tailored to the individual.
Have they finally realised that it's not 'an evidence-based medicine'; that there is no robust scientific evidence (ie the kind required by the ASA to protect the public from misleading claims) that homeopathic sugar pills have any effect over placebo?
I doubt it, but sooner or later homeopaths have to realise that they have to abide by the same rules as every other advertiser: if you make a claim, you must have robust evidence to substantiate it.
If a double-glazing seller claims his windows use an alternative glass that works far better than 'conventional' glass, then we would — rightly — expect him to be able to back up that with good evidence. There cannot be one standard for, say, double-glazing sellers and different, lower standard, for homeopaths.
And so with the homeopaths or any other advertiser of alternative therapies. Indeed, there could be a case made for requiring an even higher standard of evidence for claims about healthcare made to an unsuspecting public.
It's bad enough when homeopaths take good money from people, claiming they can cure their colds or clear up their eczema with sugar pills. It's another thing entirely to claim to prevent or treat serious diseases with identical sugar pills.
But this is precisely what the BBC's Newsnight programme discovered homeopaths were doing. Broadcast in January, Pallab Ghosh exposed the disgraceful behaviour of a north London homeopath and a homeopathic 'pharmacy' selling sugar pills as a malaria preventative.
Watch the whole sorry exposure, even if you've watched it before:
As Dr Simon Singh said on the programme:
Choice is fine as long as it's based on accurate information. And the information that's being given out by pharmacists, by celebrities endorsing homeopathy, by the NHS offering homeopathy — the implication here that homeopathy must be effective otherwise people wouldn't sell it, profit from it or offer it in the high street. And I am utterly shocked that we have a woman here [Zofia Dymitr, Chairwoman of the Society of Homeopaths] saying that she's not going to forbid her members from offering homeopathic prevention of malaria to the general public. There are people coming back from tropical countries with multiple organ failure having used homeopathy and yet this woman is not prepared to stop it.

I was here four years ago when Newsnight did your last investigation and BBC Scotland have done an investigation and BBC South West have done an investigation. The BBC are the only people regulating homeopathy at the moment, because the Society itself seems to be oblivious to its responsibility.
Is 'homeopathic' an accurate description of self-regulation?
The Advertising Standards Authority (ASA) are paragons of efficiency and professionalism. They may well have a lot to deal with at the moment, but that does not stop them investigating complaints thoroughly and responsibly. They take the business of regulation seriously and have a well-deserved reputation for being fair, independent and impartial.
That's how a regulator should conduct its business if they are to be seen as thorough and effective, particularly where there is a need to protect the public from those who would prey on their trust, ignorance or vulnerability.
The ASA have an advantage over the trade bodies that parade their Code of Ethics as banners of respectability to entice the public to believe their members are being properly regulated. The ASA operate at arms length from those who fund them: those who decide on whether an advert is legal, decent, honest and truthful treat all complaints equally, regardless of who the advertiser is or who the complainant is.
It's a pity the same cannot be said for the 'regulators' of purveyors of 'alternative' therapies.
Simon Perry has been having an interesting email conversation with Maggy Wallace, Executive Chair of the Complementary and Natural Healthcare Council.
There have been a few emails back and forth — and it would be best to read the conversation before continuing — but I felt I needed to add my tuppence-worth:
Hi Maggy
I've been following your conversation with Simon Perry with interest and I'd like to respond to some of the points you made.
You said:
As a regulator you cannot honestly expect us to support a position as stated by you to the effect that '………..Genuine, honest training on reflexology must cover the simple truth that reflexology is not known to be effective for any condition.'

This is your opinion and in our view, is unsupportable as a statement.
Simon didn't express an opinion and it's entirely supportable. The scientific evidence on reflexology is clear: it is a nice foot massage, which some may find relaxing and stress-relieving, but nothing more. Any claims outside of that are not supported by the evidence.
You may not like the scientific evidence of course, but it is reinforced by the sheer implausibility of the claimed method of diagnosis and claimed mechanism of action for reflexology.
If you don't agree with the scientific evidence, what do you base your assessment of reflexology on? What the professional associations tell you? Reflexology trade bodies? Your members' websites?
There are a lot of doctors out there, but it can be difficult to know which are properly qualified and registered medical practitioners and who are, well, just quacks.
It's not really that much of a problem for most of us. If we're feeling unwell, we make an appointment with our GP. If there is any doubt about their status, you can always verify they are registered with the General Medical Council (GMC) by checking their List of Registered Medical Practitioners (LRMP).
But there are so many other 'doctors' out there. Ignoring The House Doctor®, The Car Doctor and others who have obviously got nothing to do with health, there are many who certainly like to give the impression they are proper doctors — and I have no doubt some of them think they really are.
Take homeopaths, for example.
A simple search of the business directory yell.com shows a large number of homeopaths using the title Dr. Of course, some of them are also medically qualified and on the GMC's LRMP, but you don't have to look far to find examples of non-medically qualified homeopaths calling themselves Dr. Again, I have no doubt many of them think they really are doctors and some may well have qualification that entitles them to prefix their name with Dr, but no one should be in any doubt of what they are.
In the UK, Dr is not a protected title: anyone with a suitable qualification can call themselves Dr so-and-so. This is in stark contrast to, say, chiropractors, which is a protected term and its use by anyone not registered with the General Chiropractic Council is illegal under the Chiropractors Act 1994.
Things, thankfully, are a bit stricter when it comes to advertising services to the public.
The General Chiropractic Council's occasional News from the GCC publication rarely makes interesting reading. It's usually a mish-mash of stuff only of interest to chiropractors.
But there is an occasional interesting item or two.
The latest issue discusses the apparent ongoing debate between the Advertising Standards Authority (ASA) and the GCC:
The ASA Committee of Advertising Practice (CAP) – the debate goes on

The latest issue we've flagged up to the team at CAP relates to claims to treat minor sports injuries.

Its AdviceOnline in respect of osteopathy and physiotherapy states that CAP has accepted that they may claim to help minor sports injuries, but there is no mention of this for chiropractic. In respect of physiotherapy, CAP goes on to state that

"At the present time, CAP is unlikely to ask to see evidence for the treatment of minor conditions."

We've asked CAP to confirm that it would take the same approach to any claims made by chiropractors about minor sports injuries. As ever, we'll keep the profession in touch with progress.
We have the situation where the GCC  — the statutory regulator for chiropractors, who frequently claim to be a primary health-care profession — is asking the ASA — the voluntary advertising regulator, funded through a levy on advertising spend — to add minor sports injuries back onto their list so their registered chiropractors can make claims about it!
Let's see if we can help answer the GCC's query.
When I submitted my complaints about claims made on chiropractic websites in June 2008, a fundamental requirement regulating what chiropractors could claim — firmly embedded in their Code of Practice — was that they only advertise consistent with guidance issued by the Advertising Standards Authority (ASA).
At that time, the General Chiropractic Council's Code of Practice that was in effect was the 8 December 2005 version and the relevant clause was C1.6. Let's put it fully in context:
Chiropractors must justify public trust and confidence by being honest and trustworthy.

C1 Chiropractors must act with integrity and never abuse their professional standing.

Specifically chiropractors:

…

C1.6 may publicise their practices or permit another person to do so consistent with the law and the guidance issued by the Advertising Standards Authority. If chiropractors, or others on their behalf, do publicise, the information used must be factual and verifiable. The information must not be misleading or inaccurate in any way. It must not, in any way, abuse the trust of members of the public nor exploit their lack of experience or knowledge about either health or chiropractic matters. It must not put pressure on people to use chiropractic.29

______________________

29 For example, by arousing ill-founded fear for their future health.
This clearly mandates chiropractors to ensure any advertising complies with ASA guidance, remembering that ASA guidance includes the CAP Code, other guidance and their adjudications.
In prosecuting my complaints, the GCC inexplicably forgot all about the requirement to be consistent with ASA guidance and came up with some arbitrary standard of evidence for compliance. The Professional Conduct Committee begged to differ even with that and effectively allowed any old evidence to be used to substantiate chiropractors' claims. To understand the whole story, see Humpty Dumpty regulation.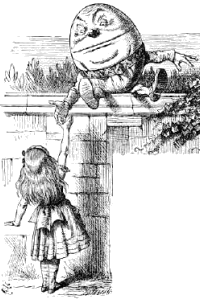 The phrase Humpty Dumpty chiropractic cropped up in a Google Alert a few days ago. It was the fitting title of an editorial (cached) in the December 2010 issue of Clinical Chiropractic, which discussed the slippery and nebulous meaning of vertebral subluxation complex (VSC).
For those who don't remember their childhood, in Lewis Carroll's Through the Looking Glass, Humpty Dumpty is discussing the meaning of words with Alice. HD remonstrates:
'When I use a word,' Humpty Dumpty said in rather a scornful tone, 'it means just what I choose it to mean — neither more nor less.'
Such equivocation is typical of on-line conversations with chiropractic supporters discussing the VSC, but it applies elsewhere as well.
It had never occurred to me that one of the important design parameters of a nappy would be how little noise it makes when flexed.
However, this seems to be a USP for some manufacturers and they want to tell prospective customers all about it.