The Scottish Chiropractic Association: Attempting to 'manipulate' the entire Scottish population?
Guest post by Blue Wode. Originally published on The Twenty First Floor on 14 March 2012.
Introduction
In recent times, the two main UK chiropractic associations, the British Chiropractic Association (BCA) and the McTimoney Chiropractic Association (MCA), have come under intense scrutiny. The BCA was brought to its knees by the misconceived libel case it brought against the science writer and broadcaster, Simon Singh, and, as a direct result of it, the MCA suffered the humiliation of having a confidential email to its members leaked online which revealed that it had urged all of them to take down their websites as they were a real threat to both them and their practices. By comparison, the Scottish Chiropractic Association (SCA) has enjoyed a relatively uncontroversial existence. Until now.
Perhaps not surprisingly, the SCA claims on its website that the majority of chiropractic patients present with musculoskeletal complaints such as lower back and leg pain, neck and mid-back pain, headaches, and shoulder and arm problems. It also says that chiropractic can play a "vital" role in living a healthy lifestyle. Undoubtedly most visitors to its website will view these claims as innocuous but in context; however, they suggest a hidden agenda.
Political Lobbying
In June 2011, at the AGM of the Scottish Parliament Cross Party Group on Chronic Pain (CPGCP), Mary Scanlon, Member of the Scottish Parliament (MSP) and Convenor, asked why chiropractors seemed so scarce in Scotland. Her question resulted in a number of clinicians advising her that they had reservations about practices like chiropractic that involved spinal manipulation as they were aware of patients who had developed complications as a consequence of it, and that it generally didn't help people with chronic pain — indeed it tended to make symptoms worse. Interestingly, Steve Gilbert, National Lead Clinician for Chronic Pain in Scotland, mentioned that any treatment will help a patient where time and attention is enhanced by touch — a view that is consistent with the World Health Organisation's 2003 bulletin on Low Back Pain.
It's worth noting at this point that although the SCA's representative on the CPGCP (Ross McDonald, SCA President) didn't attend the June 2011 AGM, or the subsequent meeting in October 2011, an impressive 76 members of the SCA turned up to rub shoulders with MSPs at a chiropractic promotional evening on 9th November 2011 at the Scottish Parliament. This wasn't the SCA's first time engaging with Scottish Parliamentarians — it had previously enjoyed their hospitality during a visit in the summer of 2010 to raise awareness of chiropractic and introduce MSPs to chiropractic spinal screenings and health checks.
On the day of the November chiropractic lobbying event, Mary Scanlon MSP informed the Scottish Parliament that she thought it:
odd that, although chiropractic treatment should be available on the NHS, no GPs refer patients for it
Perhaps she wasn't paying close attention during the June 2011 CPGCP's AGM when several of its members took a dim view of the efficacy of spinal manipulation. Or perhaps there's another reason — one that's not getting through to her and other MSPs, but which, as will become apparent, seems to be understood increasingly (albeit slowly) by GPs and other healthcare professionals.
Philosophical Underpinnings
By way of illustration, one need look no further than the website of Bill Walker MSP who has had no qualms about publicising an encounter he had with Dunfermline-based chiropractor, Mark Baxter, at the November 2011 Scottish Parliamentary reception for the SCA. Mark Baxter told him:
As a proven, cost-effective, regulated Health Care profession, we stand ready to assist the people of Scotland, and Dunfermline in particular, with effective relief from most mechanical back and neck pain related conditions.
However, Mark Baxter could easily be accused of giving a false impression of chiropractic in Scotland. If you take a close look at the photograph that Bill Walker has included on his web page, you'll notice that beyond the friendly handshake being presented to us lurks something that is altogether very different from the musculoskeletal pain relief line offered by Max Baxter.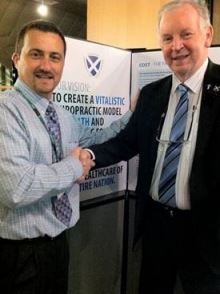 Immediately behind the two men, you'll see a display sporting the SCA emblem on which the following can be clearly discerned:
…UR VISION …TO CREATE A VITALISTIC …OPRACTIC MODEL …TH AND …ALTHCARE OF …TIRE NATION.
Those words are a blatant indication that the SCA favours an outdated model of healthcare above an evidence based one. Indeed one single, damning word, 'vitalistic', confirms that the SCA is committed to perpetuating its long-held belief in an implausible concept.
Unfortunately, it is more than likely that Bill Walker, Mary Scanlon, their MSP colleagues — plus a vast swathe of the Scottish population — are unaware that vitalism is an old, discredited philosophy that proposes that living things possess a non-physical, 'vital' energy force.
Many chiropractors, however, still believe in vitalism, referring to its metaphysical, non-measurable entity as 'Innate Intelligence', a term that is exclusive to chiropractic. Such chiropractors are adherents to the doctrine of chiropractic's founder, Daniel David Palmer, who hypothesised that a patient could achieve optimal health or 'wellness' by allowing the spinal cord to express its 'Innate Intelligence' through spinal 'adjustments' (often confused with spinal 'manipulations') to correct alleged misaligned vertebrae ('subluxations' as defined by chiropractors). These misalignments, Palmer believed, caused 'nerve interference' that was responsible for triggering most diseases. However, it has been shown to be anatomically impossible for misaligned vertebrae to interfere with the autonomic (involuntary) nervous system and no one has ever been able to demonstrate that subluxations exist or cause disease by theoretically compromising neural integrity.
This vitalistic approach — which usually focuses on detecting and adjusting subluxations as opposed to treating pain symptoms only — is almost certainly why the SCA's website declares that, in addition to musculoskeletal conditions, chiropractic can play a "vital" role in living a healthy lifestyle. Indeed, this seems to be further confirmed by a previous SCA president's comments on the results of a General Chiropractic Council (GCC) committee member election:
…many of the old guard mechanists have been swept out of office and the vitalistic group have attained a more democratic and mainstream chiropractic balance. If the younger members, up to 500 of whom did not have a vote because of a quirk in the law, had been able to vote then I believe the swing would have totally unseated the medically oriented mechanists so prevalent on the previous Council. The future is a little brighter for British Chiropractic.
Sadly, the unwitting patients of vitalistic chiropractors are vulnerable to becoming the victims of what is known as the chiropractic bait and switch:
…someone may go to see a chiropractor and think they will be seeing a medical professional who will treat their musculoskeletal symptoms, but in reality they will see the practitioner of a cult philosophy of energy healing…The bait — claims that chiropractors are medical practitioners with expertise in the musculoskeletal system. The switch — practitioners of discredited pseudosciences that have nothing to do with the musculoskeletal system…
Some chiropractors attempt to overcome charges of promoting quackery by substituting the word 'subluxation' with other terminology. The SCA, however, seems content to make reference to 'subluxations' on its website, although it appears to be carefully worded.
Scientific Evidence
But perhaps of greater concern is the SCA's use of what appears to be a patient compliance and retention gambit with its advice
to get the most out of your treatment, it is important to follow your chiropractor's recommendations and advice
and also its scientifically meaningless claim that:
a growing number of patients are looking for help with more general health conditions and choose chiropractic care to ensure optimal spinal function
As UK chiropractors are required by law to obtain informed consent from their patients, this assumes that such patients will be made fully aware that there is no good evidence for chiropractic beyond the short-lived relief of pain in patients suffering from acute low back pain. This obligation for transparency obviously presents an ethical dilemma for chiropractors as divulging the slim evidence for spinal manipulation, and the risks of chiropractic, has the potential to deter patients from proceeding with proposed treatments. This ethical dilemma is illustrated by two surveys, one of UK chiropractors, and one of UK and US chiropractors. A large number of chiropractors in these surveys admitted to failing to implement valid consent procedures for a variety of reasons, most of which were not in the best interests of patients.
Although serious adverse events associated with chiropractic treatment appear to be rare, a responsible risk/benefit assessment of most chiropractic manipulative interventions usually arrives at an unfavourable conclusion. Indeed, as Simon Singh said at the end of his article which saw the BCA launch its unsuccessful lawsuit against him:
If spinal manipulation were a drug with such serious adverse effects and so little demonstrable benefit, then it would almost certainly have been taken off the market.
That comment may seem sensationalist, but when you consider that the main risks of chiropractic treatment are not confined to patients suffering from neck pain, it makes perfect sense. What many people do not seem to appreciate is that chiropractors who believe that they are detecting and correcting 'subluxations' will often adjust the necks of patients suffering from back pain.
The other risks worth considering which are far more common, but often overlooked, are:
(a) decreased use of immunisation due to misinformation given to parents, (b) psychologic harm related to unnecessary treatment, (c) psychologic harm caused by exposure to false chiropractic beliefs about 'subluxations', and (d) financial harm due to unnecessary treatment.
Incredibly, despite these concerns, there is no reliable reporting system for harms experienced by chiropractic patients in the UK. This state of affairs is made all the more disconcerting by the content of a draft document on revalidation which was commissioned recently by the GCC (which, after it was dropped briefly, it was told to reinstate). Its purpose was to provide an analysis of the risks and benefits of chiropractic, with the aim of establishing if there was a business case for revalidation. In section 5.72 of the document, the BCA admits that its members have caused patient rib fracture injuries, but in sections 5.13 (along with the MCA), and 5.64, the SCA have apparently ignored the request for details of patient incidents and complaints.
Putting chiropractic pseudoscience and risks to one side brings the cost-effectiveness of spinal manipulation into sharp focus, and based on the data that are in so far, the news is not good. A 2003 review found that, in most instances, manipulative treatments for back pain were more expensive than others (apart from surgery) and not more helpful to outcome, and a major 2006 review found that manipulation for spinal pain normally represented an additional cost to conventional treatment. This factor alone has the capacity to impact negatively on a chiropractor's ability to earn a living.
By now it should come as no surprise to readers that quite a few GPs in the UK (i.e. not just Scotland) are not referring patients to chiropractors. This is mainly due to dozens of Primary Care Organisations refusing to fund the National Institute for Health and Clinical Excellence's (NICE) recommendations for spinal manipulation as a first line treatment for low back pain. When the recommendations were originally published, they immediately sparked fierce criticism, not least from other musculoskeletal practitioners, and to date, as the Ministry of Defence recently reminded a new chiropractic campaign group, chiropractic has not been endorsed by the NHS.
Chiropractic Wars
Returning once again to the philosophical stance of the SCA, it's worth mentioning that even the embattled BCA has made it clear that it takes exception to vitalistic practices. Along with the MCA and the United Chiropractic Association (UCA), the SCA recently formed a group called the Alliance of UK Chiropractors (AUKC) and they asked the BCA to join it. However, the BCA refused, objecting to the AUKC's adoption of the International Chiropractors Association (ICA) Best Practices documentation, which, among other policies:
Supports 27 indications for chiropractic radiography (x-rays) including spinal subluxation, birth trauma (forceps), facial pain, skin diseases, organ dysfunction, eye and vision problems, and hearing disorders.
Recommends a basic care plan for simple uncomplicated axial pain (neck pain, back pain, etc) consisting of 25 visits over 8 weeks – with the presence of 'complicating factors' (including family/relationship stress, lower wage employment, and wearing high-heeled shoes) warranting a recommended additional 12-visit blocks of care.
In particular, the BCA:
…did not consider a basic 25-visit course of care for uncomplicated back pain to be in the best interests of patients and deemed such practices as being open to allegations of patient exploitation. It also advised that UK chiropractors should not be subjected to US guidelines that are fundamentally incompatible with European law, nor that make recommendations for care that dictate extensive care plans on the basis of flimsy complicating factors.
Back to the Future
All of the above raises the following question: Could the SCA's vitalistic outlook be the reason for its representative's absence at the recent meetings of the Scottish Parliament's CPGCP? Whether it was or not, it is likely that the credibility lent to the SCA by the inclusion of its most senior officer on the CPGCP will be used to great advantage by it during its intended future discussions with the Scottish Parliament regarding the regulation of chiropractors (ref. item 34 of the GCC's Communication Advisory Group meeting in December 2011).
These proposed meetings could well be an indication that there is manoeuvring afoot by the SCA to enhance its standing in Scotland in the form of a Scottish Chiropractors' Act, and/or a ringing endorsement of chiropractic from NHS Scotland (whether Scotland becomes independent or not). But even if that is not the case, it is paramount that the SCA's strong leanings towards unscientific, vitalistic chiropractic practices are fully understood by as many people as possible — i.e. not just Mary Scanlon, her MSP colleagues, but also the general public, the full spectrum of healthcare professionals, and the media.
In the meantime, elsewhere in the world, chiropractors who avoid science as a basis for their practices are coming under fire from within: In Australia they are being severely criticised for being misguided and irrational; in the United States, James Winterstein, D.C., President of the National University of Health Sciences, has declared that "the subluxation must go" because there's no evidence for it; and in a recent article in the journal, Chiropractic & Manual Therapies, another academic chiropractor demanded that registration boards…
…prohibit the common practice whereby potential clients present to a chiropractor for a musculoskeletal complaint, only to be convinced that they are in fact suffering from subluxation related disorders and require prolonged chiropractic care.
Chiropractic's day of reckoning will come, but it doesn't look like it will be any time soon. Indeed, as Simon Singh commented recently regarding the state of chiropractic in the UK in the aftermath of the BCA's failed lawsuit against him:
I suspect that we are back to square one with chiropractors making all sorts of weird claims and a regulator that is unable or unwilling to take control.
So, until things are tightened up, be wary of chiropractors wherever you are. It may not be only your spine that they're out to manipulate.
Further reading
Scottish Parliament Freedom of Information request procedure
Chiropractic overview at Science Based Medicine
Chiropractic articles at Science Based Medicine
11 Responses to The Scottish Chiropractic Association: Attempting to 'manipulate' the entire Scottish population?