Simon Singh
What does the two-decade-old 'endorsement' by The Times really say?
Any reader not aware of the current fuss and bother over the What Doctors Don't Tell You magazine can find a comprehensive list of blog posts, etc curated by Josephine Jones: WDDTY: My Master List.
In a recent spat — after The Times published an article by Tom Whipple (Call to ban magazine for scaremongering) — WDDTY posted a scan of part of a 1989 Times article that appeared to praise their original (online subscription) publication of the same name, saying it was "A voice in the silence".
WDDTY use this same endorsement 24 years later on their main website, the WDDTY subscription website for their latest glossy, supermarket edition (although they get the quote mixed up with others) and in the glossy magazine itself.
Despite calls for them to publish the complete article, its editor, Lynne McTaggart, has not obliged, so I will.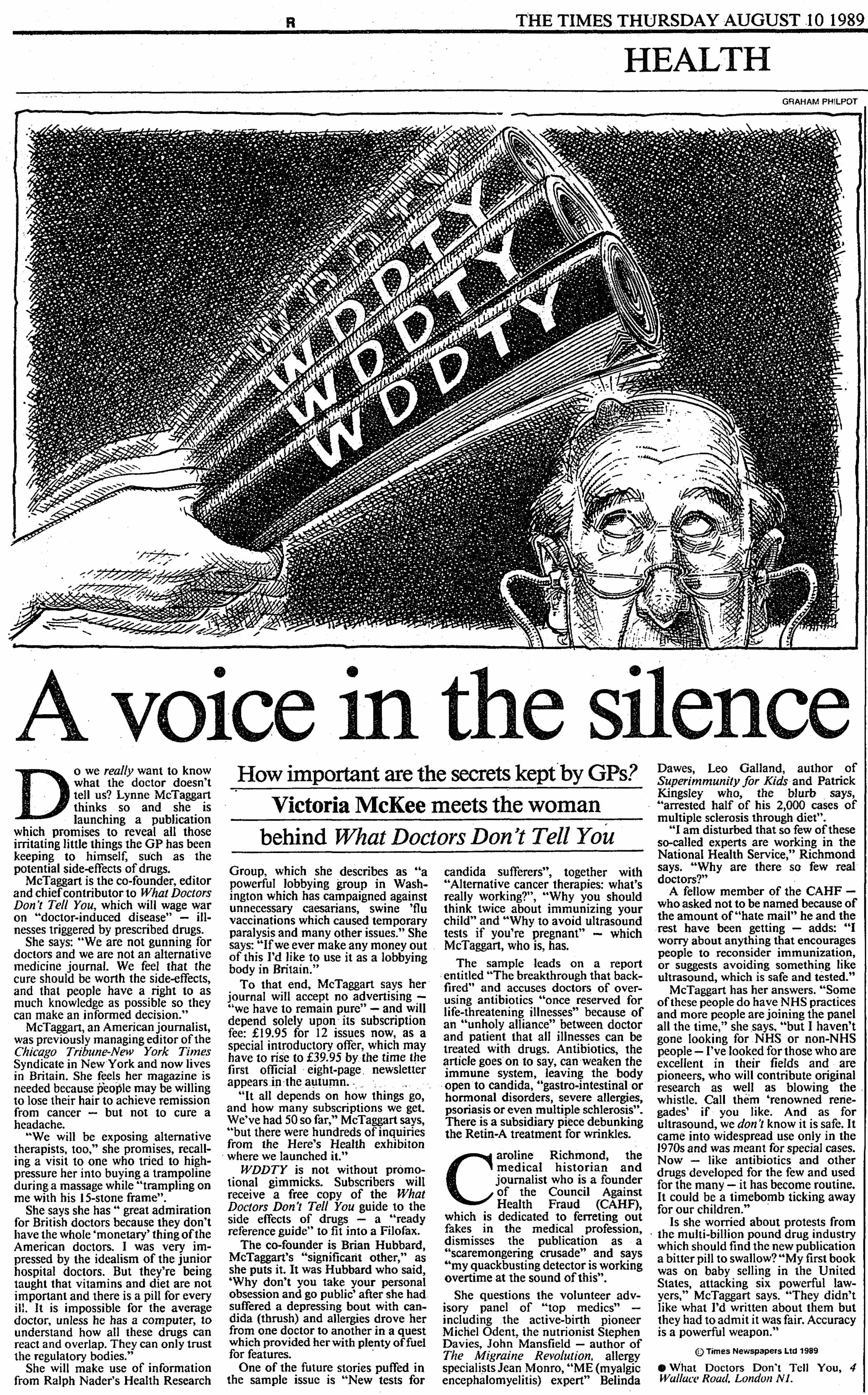 Note the charming cartoon of WDDTY being used to beat up a doctor.
I'll leave you to ponder the full article, but here are some quotes:
[WDDTY] promises to reveal all those irritating little things the GP has been keeping to himself, such as the potential side-effects of drugs.
McTaggart: "[WDDTY] will wage war on "doctor-induced disease" — illnesses triggered by prescribed drugs."
McTaggart: "We are not gunning for doctors and we are not an alternative medicine journal. We feel that the cure should be worth the side-effects, and that people have a right to as much knowledge as possible so they can make an informed decision."
[McTaggart] feels her magazine is needed because people may be willing to lose their hair to achieve remission from cancer — but not to cure a headache.
McTaggart: "We will be exposing alternative therapists, too"
McTaggart: "[doctors are] being taught that vitamins and diet are not important and there is a pill for every ill."
McTaggart: "It is impossible for the average doctor, unless he has a computer, to understand how all these drugs can react and overlap. They can only trust the regulatory bodies."
McTaggart: "If we ever make any money out of this I'd like to use it as a lobbying body in Britain."
McTaggart says her journal will accept no advertising — "we have to remain pure"
WDDTY is not without promotional gimmicks. Subscribers will receive a free copy of the What Doctors Don't Tell You guide to the side effects of drugs — a "ready reference guide" to fit into a Filofax [a kind of portable, tree-based information retrieval system — Zeno]
One of the future stories puffed in the sample issue is "New tests for candida sufferers", together with "Alternative cancer therapies: what's really working?", "Why you should think twice about immunizing your child" and "Why to avoid ultrasound tests if you're pregnant"
The sample [magazine] leads on a report entitled "The breakthrough that backfired" and accuses doctors of over-using antibiotics "once reserved for life-threatening illnesses" because of an "unholy alliance" between doctor and patient that all illnesses can be treated with drugs.
Antibiotics, the article goes on to say, can weaken the immune system, leaving the body open to candida, "gastro-intestinal or hormonal disorders, severe allergies, psoriasis or even multiple schlerosis [sic]"
Quackbusting
The article goes on to quote Caroline Richmond, founder of the Council Against Health Fraud (now known as HealthWatch), dismissing the publication as a "scaremongering crusade" and saying "my quackbusting detector is working overtime at the sound of this."
She also questioned WDDTY's 'volunteer advisory panel' of "top medics", asking why there were so few real doctors. Blogger Josephine Jones has recently had to ask a very similar question: WDDTY: The Editorial Panel. The answer Josephine gives may not be all that surprising.
McTaggart was asked if she was "worried about protests from the multi-billion pound drug industry which should find the new publication a bitter pill to swallow?", apparently. Her answer:
My first book was on baby stealing in the United States, attacking six powerful lawyers. They didn't like what I had written but they had to admit it was fair. Accuracy is a powerful weapon
Has What Doctors Don't Tell You lived up to this billing? Has it been successful? Have they exposed alternative therapists? Has its attitude to doctors, conventional treatments and evidence changed in the intervening two decades? Have they been a voice in the silence?
I'll leave that for you to decide.
Finding a document on the website of the British Chiropractic Association titled  "CONFIDENTIAL FOR BCA MEMBERS ONLY" is an open invitation…
Perusing the BCA's website usually finds extremely useful advice on schoolbags, gardening, bras, shopping, Bank Holidays, baking, gadgets, sitting and, of course, Christmas.
This time, however, I was bravely looking for what they said about the differences between chiropractic and osteopathy after a comment by a chiro on Prof Edzard Ernst's blog:
Chiropractic and osteopathy have different origins. They are separate forms of spinal manip. Typically osteopaths use long level techniques, chiros use short lever. Both aim to achieve the same thing – spinal health.
This highlights a frequent question asked by skeptics: Are chiropractic and osteopathy substantially or even significantly different forms of healthcare?
Guest post by Blue Wode. Originally published on The Twenty First Floor on 14 March 2012.
Introduction
In recent times, the two main UK chiropractic associations, the British Chiropractic Association (BCA) and the McTimoney Chiropractic Association (MCA), have come under intense scrutiny. The BCA was brought to its knees by the misconceived libel case it brought against the science writer and broadcaster, Simon Singh, and, as a direct result of it, the MCA suffered the humiliation of having a confidential email to its members leaked online which revealed that it had urged all of them to take down their websites as they were a real threat to both them and their practices. By comparison, the Scottish Chiropractic Association (SCA) has enjoyed a relatively uncontroversial existence. Until now.
I have never been 100%  sure of the exact numbers of complaints of mine the General Chiropractic Council had to deal with.
I certainly submitted a list of 524 names, but the number changed as the complaints were processed. Quite a few chiros were added to my initial list because they were at the same clinic as another I had complained about and some have been removed for various reasons. Then there were more than a few issues of chiros changing their names, moving clinics, moving abroad and other things that made it difficult to keep track, so I didn't bother to keep my list absolutely up to date. There didn't really seem any point in fretting over the minutiæ. After all, the GCC are a statutory regulator and they could be trusted to keep track because it was their statutory duty to deal with these things, couldn't they?
When I submitted my complaints about claims made on chiropractic websites in June 2008, a fundamental requirement regulating what chiropractors could claim — firmly embedded in their Code of Practice — was that they only advertise consistent with guidance issued by the Advertising Standards Authority (ASA).
At that time, the General Chiropractic Council's Code of Practice that was in effect was the 8 December 2005 version and the relevant clause was C1.6. Let's put it fully in context:
Chiropractors must justify public trust and confidence by being honest and trustworthy.

C1 Chiropractors must act with integrity and never abuse their professional standing.

Specifically chiropractors:

…

C1.6 may publicise their practices or permit another person to do so consistent with the law and the guidance issued by the Advertising Standards Authority. If chiropractors, or others on their behalf, do publicise, the information used must be factual and verifiable. The information must not be misleading or inaccurate in any way. It must not, in any way, abuse the trust of members of the public nor exploit their lack of experience or knowledge about either health or chiropractic matters. It must not put pressure on people to use chiropractic.29

______________________

29 For example, by arousing ill-founded fear for their future health.
This clearly mandates chiropractors to ensure any advertising complies with ASA guidance, remembering that ASA guidance includes the CAP Code, other guidance and their adjudications.
In prosecuting my complaints, the GCC inexplicably forgot all about the requirement to be consistent with ASA guidance and came up with some arbitrary standard of evidence for compliance. The Professional Conduct Committee begged to differ even with that and effectively allowed any old evidence to be used to substantiate chiropractors' claims. To understand the whole story, see Humpty Dumpty regulation.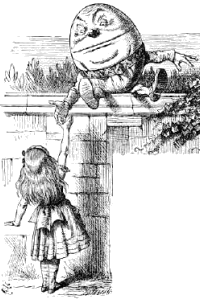 The phrase Humpty Dumpty chiropractic cropped up in a Google Alert a few days ago. It was the fitting title of an editorial (cached) in the December 2010 issue of Clinical Chiropractic, which discussed the slippery and nebulous meaning of vertebral subluxation complex (VSC).
For those who don't remember their childhood, in Lewis Carroll's Through the Looking Glass, Humpty Dumpty is discussing the meaning of words with Alice. HD remonstrates:
'When I use a word,' Humpty Dumpty said in rather a scornful tone, 'it means just what I choose it to mean — neither more nor less.'
Such equivocation is typical of on-line conversations with chiropractic supporters discussing the VSC, but it applies elsewhere as well.
Google Alerts is a very useful tool for skeptics. It sends you an email whenever the word or phrase you've asked for crops up in their searches of news, blogs or other websites. They are excellent for keeping tabs on what's going on by helping you track new stories and hits.
Naturally, I have one set up for the General Chiropractic Council (GCC), just to see where they crop up on web sites and in the news.
A few days ago, I received a Google Alert about a page that had been recently updated, although the mention of the GCC was from some time ago. It linked to a decision by the Press Complaints Commission (PCC) about complaints made by the GCC against the Daily Telegraph, the Daily Mail and the Guardian about articles published on 9 November 2007.
According to the GCC, the articles said:
Chiropractors 'are waste [sic] of money', Daily Telegraph, Rebecca Smith
Chiropractors 'are a waste of time', Daily Mail, Jenny Hope
'Chiropractors may be no use in treating back pain, study says', The Guardian, Alok Jha
Nothing new there, then.
This week is the first anniversary of the report Free Speech is Not for Sale, which highlighted the oppressive nature of English libel law. In short, the law is extremely hostile to writers, while being unreasonably friendly towards powerful corporations and individuals who want to silence critics.
The English libel law is particularly dangerous for bloggers, who are generally not backed by publishers, and who can end up being sued in London regardless of where the blog was posted. The internet allows bloggers to reach a global audience, but it also allows the High Court in London to have a global reach.
You can read more about the peculiar and grossly unfair nature of English libel law at the website of the Libel Reform Campaign. You will see that the campaign is not calling for the removal of libel law, but for a libel law that is fair and which would allow writers a reasonable opportunity to express their opinion and then defend it.
The good news is that the British Government has made a commitment to draft a bill that will reform libel, but it is essential that bloggers and their readers send a strong signal to politicians so that they follow through on this promise. You can do this by joining me and over 50,000 others who have signed the libel reform petition.
Remember, you can sign the petition whatever your nationality and wherever you live. Indeed, signatories from overseas remind British politicians that the English libel law is out of step with the rest of the free world.
If you have already signed the petition, then please encourage friends, family and colleagues to sign up. Moreover, if you have your own blog, you can join hundreds of other bloggers by posting this blog on your own site. There is a real chance that bloggers could help change the most censorious libel law in the democratic world.
We must speak out to defend free speech. Please sign the petition for libel reform.
I'm insulted. I'm miffed. My good name…
How could anyone possibly think that I would complain to the Advertising Standards Authority about misleading claims for AltMed?
Someone objected to claims being made by the Craniosacral Therapy Association (CSTA) in one of their leaflets.
It wasn't me!
When the British Chiropractic Association published its 'plethora' of 29 references they thought supported chiropractic for childhood conditions, it took just 24 hours for it to be utterly demolished by scientists and skeptics. Only 18 of these were relevant to chiropractic and childhood conditions.
Shortly after that, Fiona Godlee, Editor on the BMJ, commenting on an article by Prof Edzard Ernst, said:
But in response to our recent editorial by Evan Harris (doi:10.1136/bmj.b2254), the vice president of the BCA, Richard Brown, has now presented the evidence (doi:10.1136/bmj.b2782). He writes, "There is in fact substantial evidence for the BCA to have made claims that chiropractic can help various childhood conditions" and lists 18 references. Readers can decide for themselves whether or not they are convinced. Edzard Ernst is not (doi:10.1136/bmj.b2766). His demolition of the 18 references is, to my mind, complete.
This, presumably, was the best evidence the BCA could muster and it was left in tatters by those more knowledgeable about science and robust trials.