AltMed
Anything to do with pseudo scientific woo quackery
Do homeopaths' claims that trials are too expensive and that they can't afford them hold water?
Science is simply a systematic way for carefully and thoroughly observing nature and using consistent logic to evaluate results. Which part of that exactly do you disagree with?
— Dr Steven Novella
Homeopaths have an ambivalent attitude to research: they are quick to jump on any results they think support their pseudo scientific beliefs, yet any paper that shows homeopathy to be no better than placebo is denounced, usually with cries that the 'homeopathic system of personalised, holistic medicine' is just not suited to being tested using flawed 'conventional' double-blind randomised controlled trials (DBRCT). And sometimes Big Pharma tell lies.
But homeopaths have a problem: all advertising in the UK has to comply with the Advertising Standards Authority's CAP Code and this rightly demands a high standard of evidence for any claim, regardless of whether it's about how clean a soap powder makes your whites, how efficient double-glazed windows are or how much a skin cream reduces the appearance of wrinkles. So it is with homeopathy: high quality evidence is required.
There have been several ASA adjudications recently against homeopaths (eg  Steve Scrutton), homeopath trade bodies (eg the Society of Homeopaths — and you must watch this superb demolition of their 'evidence') and homeopath advocacy groups (eg H:MC21) and these have shown the paucity and extreme poor quality of homeopathic research.
But there doesn't seem to be that much new research being conducted that might allow claims to be made in the future. Instead, there are moves to try to persuade the ASA to lower their standards in the hope their evidence will meet this easier threshold, campaigns to oppose the ASA, petitions raised to force the ASA to change its ways, with frequent shouts of 'Censorship!', 'Bias!', 'Freedom of speech!' and double standards.
There are even moves afoot to 're-categorise' the literature on homeopathy. This is in the early stages and will probably take a few more years to complete, but there will be no prizes for guessing what the conclusions are likely to be — a comparison with the farce surrounding the Swiss report on homeopathy is inevitable.
Patient success stories Anecdotes
But homeopaths insist there is ample proof that homeopathy works already, and are keen to point out the large numbers using homeopathy as if that was an indication of efficacy. Ah, that old canard — evidence in the form of anecdotes — doesn't wash with anyone even vaguely aware of the problems of bias and with an interest in getting to the truth of the matter; and certainly not up to the ASA's standards.  Many websites of homeopaths laud their customer testimonials and there are several websites that actively gather anecdotes (or 'patient success stories' as they sometimes like to call them) such as Homeopathy Worked for Me, Patient Testimonials and a relatively new one, Making Cases Count. And of course there are their celebrity endorsements; where would homeopaths be without their celebrity endorsements?
A number of anecdotes may indicate that something is worth looking at in more detail, but they are no indication of the efficacy of homeopathy and they certainly don't change the state of the robust, independent evidence for homeopathy — or rather, the lack of it.
Many homeopaths rubbish science of course, dismissing it as reductionist and entirely unsuitable as a means of testing their precious homeopathy. But they fundamentally misunderstand science. As Dr Steven Novella puts it:
What do you think science is? There's nothing magical about science. It is simply a systematic way for carefully and thoroughly observing nature and using consistent logic to evaluate results. Which part of that exactly do you disagree with? Do you disagree with being thorough? Using careful observation? Being systematic? Or using consistent logic?
Yet homeopaths crave scientific respectability — they laud (erroneously), for example, the neutral Swiss Government for their highly positive homeopathy HTA and just about every half-baked study they can twist to make it support their favourite hobby-horse. They know that they will not make the progress they believe they deserve unless they can, finally, provide that good scientific evidence they just know is waiting to be found. As I've mentioned, it was this lack of good evidence that lost both the Society of Homeopaths and the homeopathy advocacy organisation, Homeopathy: medicine for the 21st Century (H:MC21) their Advertising Standards Authority adjudications for claims they had made in adverts. Not just on a few minor points here and there, but a complete and utter demolition of their homeopathic claims.
Academia
There are even some university academics who spend their time researching homeopathy, such as homeopath Dr Clare Relton, Senior Research Fellow at the  University of Sheffield and homeopath Dr Elizabeth Thompson, Consultant Homeopathic Physician [sic] and Honorary Senior Lecturer in Palliative Medicine at University Hospitals Bristol. There are many others as well who see themselves as legitimately researching their sugar pills.
There are even organisations whose sole purpose is to improve research into homeopathy. Take the Homeopathy Research Institute (HRI):
The Homeopathy Research Institute is an innovative international charity created to address the need for high quality scientific research in homeopathy. We use our resources and expertise to foster new projects and to improve the quality of research being carried out in the field.
They may well think they are an 'innovative international charity', but you'd be forgiven for doubting that looking at their registered address of 39 Great Windmill Street, London W1D 7LX.
Anyway, the HRI heralded that their conference in Barcelona this year would be, "A significant step forward for homeopathy research". A critical thinker might be considerably less than underwhelmed by what actually happened.
But at least they are trying to do some research; and scientific to boot. Indeed, they have seven research projects running at the moment:
Case series of 20 children diagnosed with ADHD treated with homeopathy for a year
Depression – What is the role of treatment by homeopaths?
Irritable Bowel Syndrome (IBS) randomised controlled trial
Online database of homeopathic scientific literature
Physico-chemical properties of homeopathic dilutions
Physics of homeopathic dilutions
Theories of homeopathic dilutions
Well, by 'running', I mean that they are trying to raise the money to fund them.
This list certainly covers a lot of ground; most don't require any research to answer, though…
But the one on depression says it's simply part of a PhD:
This project will evaluate the acceptability and the comparative effectiveness of adjunctive treatment provided by homeopaths for patients with self-reported depression, in addition to usual care.
So it's guaranteed to give positive results even before it's started!
Follow the money
But how much does this research cost and how on earth could they raise the money?
We are continually told that DBRCTs cost a fortune to conduct and poor homeopaths could not possibly afford them. Dr Michael Dixon has said:
In conventional medicine, pharmaceutical companies have the advantage of having funds for research. Alternative medicine lacks that.
It seems like homeopaths are so adept at coming up with excuses, anyone would think they can anticipate the outcomes…
But, other than tapping the likes of leading homeopathy manufacturer Boiron — with its market capitalisation value of just under 1 billion Euros — how on earth can they afford this very necessary research? Until they have positive results from robust, high quality trials, they will not be able to make the claims they might like to in their advertising, so the onus is definitely on them to do whatever's required to advertise their businesses honestly.
Fortunately, the HRI have an answer: they want to raise money for their research from the public using JustGiving and BT's MyDonate donation websites:
Title

Target

Online
donations

Number

Offline
donations

Gift Aid

Total

% online

% total

Total

ϣ196,000

£œ11,510

20

ϣ28,000

£œ5

ϣ39,515

6%

20%

Depression: What is the role of treatment by homeopaths?

£œ98,000

ϣ10,020

2

£œ0

ϣ5

ϣ10,025

10%

10%

Homeopathy Research Database

£œ40,000

£œ0

0

£œ0

£œ0

£œ0

0%

0%

IBS Trial: Phase 2 Fundraising Appeal

£œ15,000

£œ1,490

18

ϣ0

£œ0

£œ1,490

10%

10%

Irritable Bowel Syndrome (IBS) randomised controlled trial

£œ10,000

£œ0

0

ϣ5,000

£œ0

£œ5,000

0%

50%

Physico-chemical properties of homeopathic dilutions

£œ10,000

ϣ0

0

£œ10,000

£œ0

ϣ10,000

0%

100%

A new quantum theory to explain homeopathy

ϣ10,000

£œ0

0

£œ10,000

£œ0

ϣ10,000

0%

100%

Physics of homeopathic dilutions

ϣ5,000

£œ0

0

£œ0

£œ0

£œ0

0%

0%

Theories of homeopathic dilutions

£œ5,000

£œ0

0

ϣ0

£œ0

ϣ0

0%

0%

ADHD case series

ϣ3,000

£œ0

0

ϣ3,000

£œ0

£œ3,000

0%

100%
Of course, these are just the target amounts they want to raise from donations and they could have additional funding secured from elsewhere, but note that four of them have offline donations already.
This could also answer the question about how much a homeopathic trial costs and it won't go unnoticed that the Q-word rears its ugly head.
Positive by design
Their two IBS projects (IBS Trial: Phase 2 Fundraising Appeal and Irritable Bowel Syndrome (IBS) randomised controlled trial) are raising funds from two different websites: one with a target of £15,000 and the other of £10,000. However, in the past 12 months, excluding a one-off online donation of £10,000, they have raised a grand total of just £1,490 from the public.
But maybe these are one and the same trial? They certainly appear to be — and it is this trial that is discussed by Prof Edzard Ernst: Homeopathy for IBS? When will we stop wasting resources on such useless pseudo-research?
Prof Ernst links to a new study and this has the same trial registration number as the one on the HRI's website: ISRCTN90651143. As he points out:
We are again dealing with an A+B versus B design, on top of it without patient- or therapist-blinding. This type of analysis cannot ever produce a negative result, even if the experimental treatment is a pure placebo: placebo + usual care is always more than usual care alone. IBS-patients will certainly experience benefit from having the homeopaths' time, empathy and compassion – never mind the remedies they get from them. And for the secondary analyses, things do not seem to be much more rigorous either.
He concludes:
Obviously, I have not seen the data (they have not yet been published) but I think I can nevertheless predict the conclusions of the primary analysis of this trial; they will read something like this: HOMEOPATHY PROVED TO BE SIGNIFICANTLY MORE EFFECTIVE THAN USUAL CARE. I have asked the question before and I do it again: when does this sort of 'research' cross the line into the realm of scientific misconduct?
Indeed.
That protocol document says:
This trial has received NHS approval and results are expected in 2013.
It received Barnsley Hospital internal approval on 14 December 2009, ethics committee approval on 9 December 2010, and the protocol paper was  published a further two years later, on 6 November 2012.
So, having published the protocol, and with the Current Controlled Trials entry saying it is completed, with an anticipated end date of 31 December 2012, what is the current status of this research? I don't know. Perhaps they still need money to analyse the results and write up the paper?
Touting for money
Various homeopathic organisations were advertising this trial last December: Australian Homeopathy Plus and the HRI issued an urgent fundraising appeal in December 2012:
Vital IBS trial needs your help
Funding needed: £15,000 Total raised so far: £1,900
Then in March 2103, they said:
Fundraising
IBS trial fundraising appeal – update

On behalf of the researchers at Barnsley Hospital involved in the Homeopathy for Irritable Bowel Syndrome trial (HIBS), HRI would like to thank everyone who donated to our fundraising appeal last November in support of this project. There was a hugely positive response to our appeal, with many warm messages of support as well as donations which totalled just over £2,000. In these hard times, it was a fantastic response from individuals. Click here to find out exactly how these funds are going to be put to use.
"There was a hugely positive response to our appeal"? It doesn't matter what the true figure is, whether it's £1,490, £1,900 or even £2,000, it falls dramatically short of the £15,000 they said they needed. I think they mean 'a truly homeopathic response to our appeal'.
But they go on to give the bad news:
However, shortly after these funds were raised, changes at Barnsley Hospital meant that it would no longer be possible to carry out a second phase of the trial (involving recruitement [sic] of more patients) as intended. Instead, the aim now is to publish the existing HIBS trial results which, in the opinion of Prof Kate Thomas (an expert in Health Services Research) form a "robust pragmatic pilot study".

After much discussion with stakeholders and those who made donations, the money raised by HRI will be used to provide seed funding for Jackie Raw RSHom (homeopath and HIBS project manager) to carry out a one-year prospective service evaluation of her work providing individualised homeopathic treatment for patients with IBS at Barnsley Hosp NHS Foundation Trust. Jackie would be aiming to treat ~ 30 patients and the total cost of the project has been estimated at £5,000.
It's just not clear to me what's going on but I sincerely hope they weren't raising money for a project that has already been completed!
Bringing home the bacon
But after failing to raise very much funding from their supporters, the HRI now want the taxpayer to pay for research! In their submission to the House of Commons Science and Technology Committee inquiry into antimicrobial resistance (AMR), they want the Department of Health to consider using magic sugar pills to combat the very real threat of resistant bacteria, viruses, etc.
Without a hint of irony, they ask:
1.3 HRI recommends that the Department of Health conducts research to determine definitively whether homeopathy is efficacious for [ear infections in children] (we suggest a multi-centred randomised placebo-controlled comparative trial).

1.4 HRI recommends that Defra conducts research to determine definitively whether the homeopathic medicine Coli 30K is efficacious for reducing the incidence of E.coli bacteria in neonatal piglets (we suggest a multi-centred observer blinded, randomised placebo-controlled trial).
Unbelievable.
And of course:
1.10 HRI would welcome the opportunity to assist the Department of Health and Defra in investigating the potential for homeopathy to play a role in tackling AMR.
I'm sure they would.
Elephants by the herd
Of course, the elephant in the room is the fact that, even though these fund-raising campaigns have been running for over a year, they have only managed to scrape together a measly 20 online donations. They do seem to have an anonymous offline benefactor, but even taking all donations into account, all they have managed to muster is 20% of their total.
So it seems that homeopaths and their customers aren't too willing to pay for research.
Maybe we're expecting too much here. Maybe the money just isn't there in these straitened, austere times?
But maybe we also need some alternative thinking here: rather than wringing hands and saying it can't be done, how much could be raised by practitioners with a small levy on each appointment? That sounds like an easy way of raising funding: from the very people who desperately need to keep on the right side of the rules for their advertising and who will benefit most from being backed by good scientific evidence.
After all, there are several thousand homeopaths plying their trade in the UK. The FindAHomeopath website boasts 3,032 who are members of either the Society of Homeopaths, the Alliance of Registered Homeopaths or the Homeopathic Medical Association. (They also claim to include members of the Faculty of Homeopathy/British Homeopathic Association, but none are listed.)
So, what could be raised if a small levy was charged on each appointment?
Shock! Horror!
Gasps of horror from homeopaths!
You can imagine the objections:
We can't afford it!
Our customers can't afford it!
It'll never work!
It'll be too difficult!
Well, let's see. Let's find out how they could raise the funds for dozens of trials — let's play with some numbers with a handy calculator and see what drops out.
How to use the research funding calculator
Enter:
the number of practitioners working in the therapy
the average number of appointments per day
the average number of days per week worked
the average number of weeks worked in a year
the average cost of an appointment
the percentage levy to be used to generate funds for research
The calculator will show the number of appointments per practitioner per year, the practitioner's income per year, the total number of appointments per year, the levy per appointment and the total raised per year.
Calculator
So, using these default values of 3,000 practitioners, doing just four appointments a day, four days a week, 40 weeks of the year, asking for just 1% (50p) more from each customer — or donating that small amount from profits — means that they would raise a research fund of just under £1 million — each and every year.
This 50p would cover the HRI's puny total of £196,000 nearly five-times over; 10p would still just about cover it.
Even if the default numbers I've used are optimistic (perhaps lots of them just work part-time), it's very easy to see how they could raise a significant amount of money very easily, with just a little effort.
Try some figures for yourself.
Alternative funding
Of course, these simple calculations can be applied to any therapy that is lacking in positive research such as reflexology, reiki, Bowen therapy, craniosacral therapy or any similar pseudo scientific nonsense.
If any practitioners — or their trade bodies — really wanted to try to come up with the good evidence they're probably convinced exists, then what's stopping them? After all, if they were able to produce good evidence, they might be able to convince the ASA to accept their advertising claims.
However, if they don't even try to get good trials done, they will forever pay the price in their advertising.
What does the two-decade-old 'endorsement' by The Times really say?
Any reader not aware of the current fuss and bother over the What Doctors Don't Tell You magazine can find a comprehensive list of blog posts, etc curated by Josephine Jones: WDDTY: My Master List.
In a recent spat — after The Times published an article by Tom Whipple (Call to ban magazine for scaremongering) — WDDTY posted a scan of part of a 1989 Times article that appeared to praise their original (online subscription) publication of the same name, saying it was "A voice in the silence".
WDDTY use this same endorsement 24 years later on their main website, the WDDTY subscription website for their latest glossy, supermarket edition (although they get the quote mixed up with others) and in the glossy magazine itself.
Despite calls for them to publish the complete article, its editor, Lynne McTaggart, has not obliged, so I will.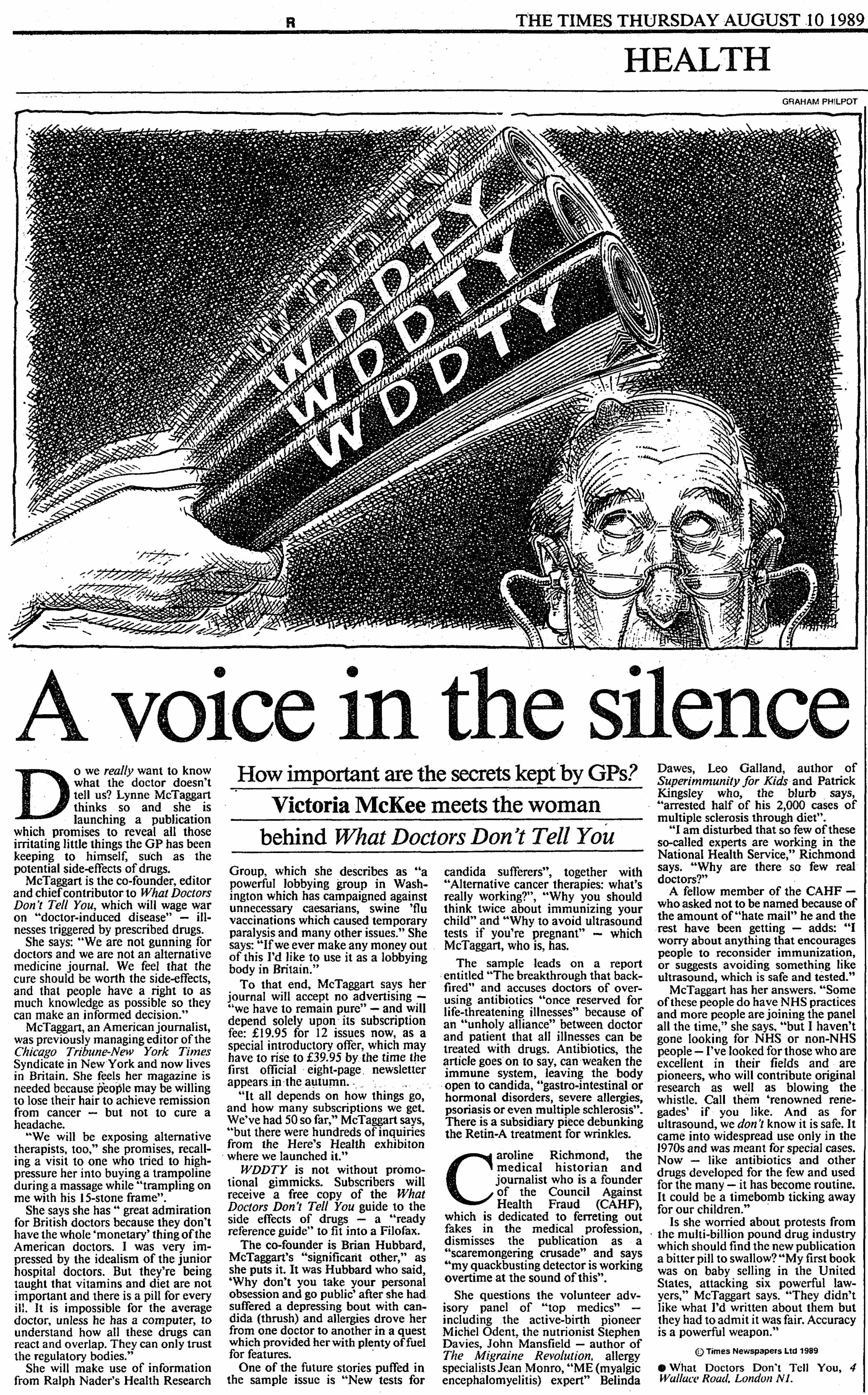 Note the charming cartoon of WDDTY being used to beat up a doctor.
I'll leave you to ponder the full article, but here are some quotes:
[WDDTY] promises to reveal all those irritating little things the GP has been keeping to himself, such as the potential side-effects of drugs.
McTaggart: "[WDDTY] will wage war on "doctor-induced disease" — illnesses triggered by prescribed drugs."
McTaggart: "We are not gunning for doctors and we are not an alternative medicine journal. We feel that the cure should be worth the side-effects, and that people have a right to as much knowledge as possible so they can make an informed decision."
[McTaggart] feels her magazine is needed because people may be willing to lose their hair to achieve remission from cancer — but not to cure a headache.
McTaggart: "We will be exposing alternative therapists, too"
McTaggart: "[doctors are] being taught that vitamins and diet are not important and there is a pill for every ill."
McTaggart: "It is impossible for the average doctor, unless he has a computer, to understand how all these drugs can react and overlap. They can only trust the regulatory bodies."
McTaggart: "If we ever make any money out of this I'd like to use it as a lobbying body in Britain."
McTaggart says her journal will accept no advertising — "we have to remain pure"
WDDTY is not without promotional gimmicks. Subscribers will receive a free copy of the What Doctors Don't Tell You guide to the side effects of drugs — a "ready reference guide" to fit into a Filofax [a kind of portable, tree-based information retrieval system — Zeno]
One of the future stories puffed in the sample issue is "New tests for candida sufferers", together with "Alternative cancer therapies: what's really working?", "Why you should think twice about immunizing your child" and "Why to avoid ultrasound tests if you're pregnant"
The sample [magazine] leads on a report entitled "The breakthrough that backfired" and accuses doctors of over-using antibiotics "once reserved for life-threatening illnesses" because of an "unholy alliance" between doctor and patient that all illnesses can be treated with drugs.
Antibiotics, the article goes on to say, can weaken the immune system, leaving the body open to candida, "gastro-intestinal or hormonal disorders, severe allergies, psoriasis or even multiple schlerosis [sic]"
Quackbusting
The article goes on to quote Caroline Richmond, founder of the Council Against Health Fraud (now known as HealthWatch), dismissing the publication as a "scaremongering crusade" and saying "my quackbusting detector is working overtime at the sound of this."
She also questioned WDDTY's 'volunteer advisory panel' of "top medics", asking why there were so few real doctors. Blogger Josephine Jones has recently had to ask a very similar question: WDDTY: The Editorial Panel. The answer Josephine gives may not be all that surprising.
McTaggart was asked if she was "worried about protests from the multi-billion pound drug industry which should find the new publication a bitter pill to swallow?", apparently. Her answer:
My first book was on baby stealing in the United States, attacking six powerful lawyers. They didn't like what I had written but they had to admit it was fair. Accuracy is a powerful weapon
Has What Doctors Don't Tell You lived up to this billing? Has it been successful? Have they exposed alternative therapists? Has its attitude to doctors, conventional treatments and evidence changed in the intervening two decades? Have they been a voice in the silence?
I'll leave that for you to decide.
Finding a document on the website of the British Chiropractic Association titled  "CONFIDENTIAL FOR BCA MEMBERS ONLY" is an open invitation…
Perusing the BCA's website usually finds extremely useful advice on schoolbags, gardening, bras, shopping, Bank Holidays, baking, gadgets, sitting and, of course, Christmas.
This time, however, I was bravely looking for what they said about the differences between chiropractic and osteopathy after a comment by a chiro on Prof Edzard Ernst's blog:
Chiropractic and osteopathy have different origins. They are separate forms of spinal manip. Typically osteopaths use long level techniques, chiros use short lever. Both aim to achieve the same thing – spinal health.
This highlights a frequent question asked by skeptics: Are chiropractic and osteopathy substantially or even significantly different forms of healthcare?
The exposé  by Prof David Colquhoun of the interference by the Department of Health — at the behest of homeopathy promoters — in the publication of impartial, scientifically-based information about homeopathy on the NHS Choices website has been covered by the Guardian and the Daily Mail this past week.
Damned by their own words, the DoH said in response to the draft submitted by the editors of NHS Choices that mentioned the House of Commons Science and Technology Committee's comprehensive Evidence Check report on homeopathy:
Can we remove this statement? This report is really quite contentious and we may well be subject to quite a lot of challenge from the Homeopathic community if published.
The statement was removed. What NHS Choices were eventually told to publish was a biased sop to homeopathy, including a list of the main homeopathy trade bodies and a list of medical conditions homeopathy could, apparently, treat.
Andy Lewis, on his excellent website, The Quackometer, asked that we contact our MP over this to demand NHS Choices be allowed to replace this biased page with one that properly reflects the scientific consensus on homeopathy so that the public can make properly informed choices in their health care.
Below is our email to our MP. We urge all those concerned about the public being given unbiased information to write to your own MP — please feel free to use whatever you feel useful.
We are concerned to read that the Department of Health has been interfering with the content of the NHS Choices website to the detriment of the public's ability to make informed choices about health care.

It was reported in the Guardian on 13 February (Prince's charity lobbied government to water down homeopathy criticism) and in the Daily Mail on 15 February (Homeopathy charity run by Charles 'cowed civil servants' into supporting the therapy) that the NHS Choices website editor had been prevented from stating the lack of scientific evidence for homeopathy for fear of lobbying from the 'homeopathy community'. This debacle came to light after a Freedom of Information request by Professor David Colquhoun.

As a result of this interference, the page on homeopathy as it stands now is in danger of misleading the public into thinking that homeopathy may be able to treat potentially serious medical conditions such as asthma, ear infections, high blood pressure and depression when there is no scientific evidence to suggest this is the case.

In his response to the House of Commons Science and Technology Committee's Evidence Check report on homeopathy (which recommended removal of all NHS funding for homeopathy because of the complete lack of scientific evidence), the Secretary of State for Health stated:

10. In order for the public to make informed choices, it is therefore vitally important that the scientific evidence base for homeopathy is clearly explained and available. He will therefore engage further with the Department of Health to ensure communication to the public is addressed. His position remains that the evidence of efficacy and the scientific basis of homeopathy is highly questionable.

He also stated:

14. The Government agrees that, when looking at the evidence base for efficacy, it is important to focus on the most scientifically robust studies and evidence.

It is therefore incomprehensible and deplorable that the Department of Health believes it now acceptable to tell the public that homeopathy can be used to treat the following:

asthma
depression
ear infections
hay fever
other mental health conditions, such as stress and anxiety
allergies, such as food allergies
dermatitis (an allergic skin condition)
arthritis
high blood pressure

For such a highly respected, informative and authoritative source of sound medical information such as NHS Choices to have been forced by the DoH into publishing such erroneous information on homeopathy is disgraceful and unacceptable.

This can only lead to the public being mislead and potentially making ill-advised and dangerous health care decisions.

As we are sure you are aware, the Chief Medical Officer, Professor Dame Sally Davies, has recently made clear that homeopathy is 'rubbish'. The DoH needs to heed this advice and allow NHS Choices to completely re-write the page on sound scientific and evidence-based principles.

We also note that Anna Soubry recently stated to the House:

The Department [of Health] does not maintain a position on any particular complementary or alternative medicine treatments including homeopathy.

We therefore ask you to request that the Secretary of State for Health explain these actions and that he allow NHS Choices the freedom to ensure that the public can make the informed choice that are entitled to make based on sound scientific evidence and principles and not to have that distorted by vested interests.

We look forward to receiving your reply.

Thanks and best regards.
I'll let you know what response we get.
Guest post by Blue Wode. Originally published on The Twenty First Floor on 14 March 2012.
Introduction
In recent times, the two main UK chiropractic associations, the British Chiropractic Association (BCA) and the McTimoney Chiropractic Association (MCA), have come under intense scrutiny. The BCA was brought to its knees by the misconceived libel case it brought against the science writer and broadcaster, Simon Singh, and, as a direct result of it, the MCA suffered the humiliation of having a confidential email to its members leaked online which revealed that it had urged all of them to take down their websites as they were a real threat to both them and their practices. By comparison, the Scottish Chiropractic Association (SCA) has enjoyed a relatively uncontroversial existence. Until now.
Jubilation in the chiropractic world! But, as usual, all is not what it might first seem…
Chiropractors granted Royal Charter:

The College of Chiropractors will soon be given the honour of being named the Royal College of Chiropractors. In doing so, Chiropractors become the first complementary health specialty to be awarded a Royal Charter. It is great news for Chiropractors and the development of the chiropractic profession in general.

Royal Charters have traditionally been awarded to specialty areas of Medicine such as the Royal College of Surgeons or Royal College of Dentists. It recognises the value of the College of Chiropractors unique position as a leader in the profession. (Source)
College of Chiropractors receives Royal Charter. Feels great to now be part of The Royal College of Chiropractors (Source)
The College of Chiropractors have been granted Royal Charter. Congratulations to the Royal College of Chiropractors! (Source)
The College of Chiropractors will soon be given the honour of being named the Royal College of Chiropractors. (Source)
One chiro was quick to update their website (or maybe he always thought it was a Royal College?) with this new imprimatur:
 I am registered with the General Chiropractic Council…and a member of the British Chiropractic Association (BCA) and the Royal College of Chiropractors. (Source)
The British Chiropractic Association (BCA) published a press release (cached) that probably started this all off:
College of Chiropractors granted Royal Charter

Dated: 12 November 2012

At a meeting of the Privy Council on Wednesday, the Queen approved the grant of a Royal Charter to the College of Chiropractors, the first Royal Charter to be granted to a complementary medicine organisation in the UK.

The College is an academic, professional membership body, established along the lines of the Medical Royal Colleges, which over the past 13 years has sought to ensure quality, safety and excellence are at the forefront of chiropractic practice in the public interest.

Chiropractic is regulated by statute and although chiropractors provide their services largely within the private sector, NHS funding for chiropractic treatment is now emerging region by region under the Department of Health's new commissioning arrangements. Chiropractors specialise in the diagnosis and treatment of problems affecting the joints, muscles and nerves and are probably best known for treating low back pain, a condition which costs the equivalent of between 1% and 2% of the UK GDP and has a significant impact on people's lives.

Rarely granted, a Royal Charter signals permanence and stability and, in the College of Chiropractors' case, a clear indication to others of the leadership value and innovative approach the College brings to the development of the chiropractic profession. The Royal Charter essentially formalises the College's position as a unique, apolitical, consultative body, recognising its role in promoting high practice standards and certifying quality and thus securing public confidence.

Tim Jay, President of the College, said, "The College of Chiropractors' Royal Charter emphasises to the public and other health bodies that chiropractic is a healthcare profession with parity in the field of musculoskeletal health, providing a viable and recognised option for patients."
All the usual spin, of course.
In his Guardian article, Homeopaths offer to rebrand products as 'confectionery', Martin Robbins tells the story that, faced with being unable to sell their products as homeopathic medicines because they were unlicensed, a manufacturer offered to re-brand them as sweets. The irony of that won't be lost on many, but what else has been going on?
…sceptics [are] posing as genuine members of the public…
Thanks to his FOIA request, we now know that the medicines regulator, the MHRA, told homeopathy manufacturers Helios and Ainsworths to discontinue the sale and supply of a number of their kits of homeopathic products because they contained homeopathic products that were not registered (under the HR scheme) or authorised (under the NR scheme) and because the names of the kits were not as had been registered with the MHRA.
McCarthy-style reporting, encouraged by the self-appointed detractors of homoeopathy…has protracted this decline [in the homeopathy industry]
These two issues are important: under the Medicines Regulations, individual homeopathic products have to be registered or authorised by the MHRA, and so do kits of these products, with the name of the kits agreed with the MHRA.
Helios and Ainsworths fell foul of the Medicines Regulations on both counts.
What does the Swiss Government really think about homeopathy?
By Sven Rudloff and Zeno
A lot has been made by homeopaths about the 'neutral' Swiss Government's report and its unequivocal support of homeopathy. It's been lauded by the luminaries of the homeopathic world as further proof — as if any was needed, of course — that homeopathic 'medicines' are superior in every way to those dangerous and expensive pharmaceutical drugs.
Arch proponent of homeopathy, Dana Ullman, proclaimed:
The Swiss government's exceedingly positive report on homeopathic medicine

The Swiss government has a long and widely-respected history of neutrality, and therefore, reports from this government on controversial subjects need to be taken more seriously than other reports from countries that are more strongly influenced by present economic and political constituencies.

…

In late 2011, the Swiss government's report on homeopathic medicine represents the most comprehensive evaluation of homeopathic medicine ever written by a government and was just published in book form in English (Bornhoft and Matthiessen, 2011). This breakthrough report affirmed that homeopathic treatment is both effective and cost-effective and that homeopathic treatment should be reimbursed by Switzerland's national health insurance program.

…

The provisional reimbursement for these alternative treatments ended in 2005, but as a result of this new study, the Swiss government's health insurance program once again began to reimburse for homeopathy and select alternative treatments. (Source, cached)
Ullman again:
this report from the Swiss government has confirmed the efficacy and cost-effectiveness of homeopathic treatment. (Source, cached)
The Society of Homeopaths:
Swiss scientists endorse homeopathy evidence

Report says homeopathic medicine is clinically effective

A comprehensive and authoritative research study by Swiss scientists has offered an unambiguous endorsement of the evidence base for homeopathy as a clinically effective system of medicine.

Their report, part of a Swiss government evaluation of complementary and alternative medicines, gives a massive boost to the growing body of research underpinning the therapeutic effects of homeopathic medicine. (Source, cached)
The Faculty of Homeopathy and the British Homeopathic Association:
Evidence for homeopathy builds

Long-awaited English translation of Swiss study endorses evidence for homeopathy

This important report addresses the evidence for the effectiveness of homeopathic therapy in everyday use (i.e. the real world), its safety and its cost-effectiveness.

The authors, Doctor Gudrun Bornhöft and Professor Peter Matthiessen, state: "There is sufficient evidence for the preclinical effectiveness and the clinical efficacy of homeopathy and for its safety and economy compared with conventional treatment."

Following on from the initial publication of this report, a public referendum in Switzerland in 2009 supported the inclusion of homeopathy and other complementary and alternative medicines in the Swiss national health insurance, with 67% of the people voting in favour. Earlier this month, the Swiss government passed legislation to enact the referendum's conclusion. (Source, cached and source, cached)
GP and homeopath Dr Andrew Sikorski:
In 2009 a Swiss national referendum voted in favour of complementary medicine being part of the public health service which is now covered by the obligatory public health insurance system. This decision was partly informed by the findings of the 2006 Health Technology Assessment report commissioned by the Swiss Government on the effectiveness, safety and cost-effectiveness of homeopathy in general practice. (Source, cached)
Many other websites have echoed these sentiments, with many taking their lead from Ullman's article and possibly placing far too much reliance on what he had to say, eg Swiss Government finds homeopathy effective and cost efficient (cached).
You'd think from all this that the 'neutral' Swiss Government had taken to homeopathy like the proverbial quacking duck to water.
Of course, to state in this context that the Swiss Government has a 'widely-respected history of neutrality' is to conflate political neutrality with scientific objectivity.
As usual, research of truly homeopathic proportions, misrepresentation and cherry picking are the order of the day.
I have never been 100%  sure of the exact numbers of complaints of mine the General Chiropractic Council had to deal with.
I certainly submitted a list of 524 names, but the number changed as the complaints were processed. Quite a few chiros were added to my initial list because they were at the same clinic as another I had complained about and some have been removed for various reasons. Then there were more than a few issues of chiros changing their names, moving clinics, moving abroad and other things that made it difficult to keep track, so I didn't bother to keep my list absolutely up to date. There didn't really seem any point in fretting over the minutiæ. After all, the GCC are a statutory regulator and they could be trusted to keep track because it was their statutory duty to deal with these things, couldn't they?
I'm not sure how I came across it, but it was probably on Twitter.
A conference on alternative cancer treatments is being held in Totnes in Devon this coming Saturday, organised by Dr Stephen Hopwood (cached) of the Totnes Cancer Health Centre (TCHC).
Because of its content, I immediately complained to Consumer Direct (the central point for Trading Standards complaints) on 2 March who passed it on to Devon Trading Standards (TS).